---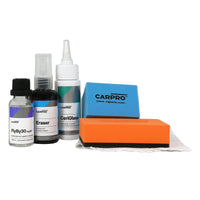 CarPro FlyBy30 Windshield Coating FULL KIT - 20ml
Product Description
(1) 20ml bottle of FlyBy30

(1) 50ml bottle of Ceriglass

(1) 50ml bottle of Eraser

(1) Applicator Block

(1) Ceriglass Hand Applicator

(2) 4" Microfiber Suede Applicators

(1) 8" Microfiber Suede Buffing Towel
FlyBy30 is THE answer to protecting the windshield and exterior glass surface of your vehicle.  With FlyBy30 new state of the art materials were composed to create a strong coating on glass windshields and windows.  FlyBy30 resists the friction and abrasion from road rash, wipers, dust, car washes, harsh cleansers, and the environment.  With a high water droplet contact angle and low sliding angle FlyBy30 promises fast repellency and glass easily cleared from rain, ice, snow and bugs.
Features:
Ease of use

Value: Estimated consumption per complete car windscreen and side windows is 10ml

Perfect Clarity: No haze, smears, or stains

Provides safe, and high visibility driving in poor weather conditions

High water drop contact angle (112 deg.) & low sliding angle (15 deg.) promise fast repellency.

Water repellency on windshields will last minimum of 6~8 month (1 season).  Beyond that rain drops will continue to repel but at higher speeds.

FlyBy30 repels water drops starting at 30 to 40 mph, and allows you to have clear vision with safe driving. * Speed varies based on windshield angle, average tested on 45 deg. Angle)
FlyBy30 can be used on all car glass allowing safe driving in the rain with clear vision all around.
Specifications:
High water droplet contact angle (112 deg.) 

Low water droplet sliding angle (15 deg.) 

Rain repellency starting from 30-40 mph

Durability: Approximately 4-5 Months

 
Directions:
*Do not apply to a wet windshield or it may cause damage to the surface.

Polish your glass using Ceriglass by hand or machine.  If scratches are present use machine.

Wipe off residue

Clean surface well with Eraser

Shake Flyby30, pour a few drops of FlyBy30 on the suede applicator and apply in criss-crossto one side of windshield or one window.

Allow to flash and haze for approximately 1-3 minutes (depending on temps and humidity).

Thoroughly clean the wiper blades and apply Reload