---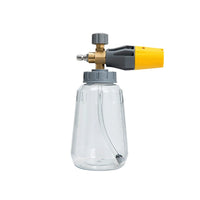 Foam Cannon Transparent Bottle Heavy Duty Yellow Tip
Product Description 
foam consistency can be adjusted as you wish, The(+) means less foam with more water; The(- )means more foam with less water. High-pressure foam spray with deep-tailed wick for even fan spray and greater release of thicker foam.

The cannon is also large enough to hold 1 liter of cleaning solution, which is enough for multiple washings. transparent bottle deasign and full copper body, more durable.

Original foam spray bottle with 1.2mm Orifice Nozzle is suitable for pressure washer over 1800W, additional orifice nozzle 1.1mm (suitable for 1200-1800W pressure washe) and additional orifice nozzle 1.0mm (suitable for pressure washerup to 1200W). original foam maker 0.13oz and additional foam maker is 0.176oz.

Foam cannon suitable for 1000-4000PSI of most pressure Washer. Snow Foam Lance is made of high-quality materials and is designed to produce thick, sudsy foam that is perfect for washing cars, trucks, motorcycles, and more. It is also very easy to use, simple design and intuitive controls.

Foam cannon car cleaning kit includes: 1 * Foam Cannon, 1 * Additional Orifice Nozzle 1.1mm, 1 * Additional Orifice Nozzle 1.0mm, 1 * foam maker 0.18oz, 1 * car wash mitt. The foam filter in the spout is recommended to be cleaned regularly and replaced in case of serious blockage.