---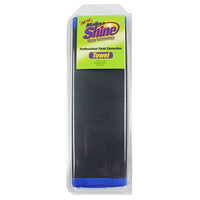 PAINT CORRECTION TOWEL
Product Description 
The Magna Shine Paint Correction Towel with the new Nano Technology is easier, safer, and faster to use than the traditional Clay Bar with its old technology! You will be amazed at how simple it is to remove surface contaminants that have bonded to your vehicle exterior surfaces.

Using this Paint Correction Towel is outstandingly effective with its advanced rubber polymer technology for the removal of light tree sap, tar, scuff marks, water marks residue, rail dust, road grime, bugs, paint overspray, and other extra surface contaminants.

The rubber polymer coating that is bonded to one side of the towel loosens and removes particles that are stuck to the clear coat. Your paint will look and feel remarkably clean - ready to apply your polish, glaze, sealant or wax, as desired!

1-2-3 = Done: 1. Wash the vehicle as you normally would to remove the loose dirt and grime. 2. Wipe dry. 3. Lastly, use the Magna Shine Paint Correction Towel along with a clay bar lubricant like our Hi-Tech Wax Enhancer (plain water is not an effective lubricant) and simply wipe the polymer coated side of the towel over the contaminated surfaces. You will be astonished how simple and easy it is to remove those hard-to-remove surface pollutants.

These Extra Bonuses are Free! **Bonus #1: Unlike the traditional clay bar, If you drop it on the ground simply rinse the Magna Shine Towel with clean water and its ready to be used again! **Bonus #2: Your new technologically-advanced towel will last longer than the traditional clay bar saving you money! **Bonus #3: This latest Nano Technology Wash Towel is effective not only on the paint, but on the glass, trim moldings, plastics and much more.